Search Results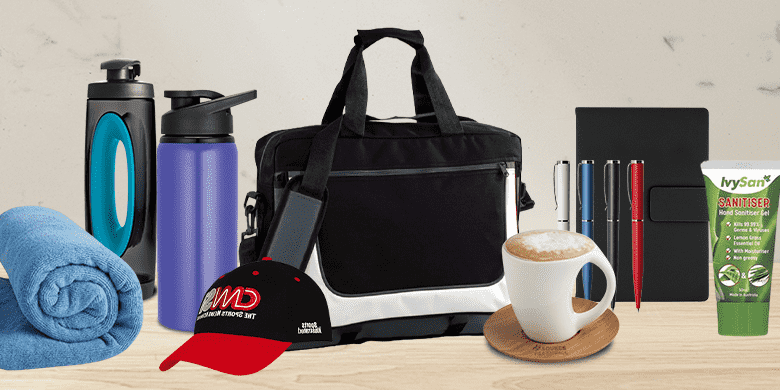 8 October, 2021
What is a Promotional Product
The standard definition of a promotional product is any item that is given away (or sometimes charged for at a nominal cost) that is branded with a company logo or slogan. If you take a look around you in the office, at home, when you are walking around outside, you will come to discover that promotional products surround you. In all likelihood, there is one insight of you now – a pen, mug, bag, piece of clothing or cap.
Promotional products are a powerful advertising tool for brand recognition and brand reinforcement. They are commonly used at big events such as trade shows, conferences, music festivals and outdoor sporting events, as part of a marketing campaign. You can also maximise these branded products for simple appreciation gifts to corporate clients or gift sets for employees and loyal customers.
The evolution of the promotional products industry first started in the United States of America as best anyone can pinpoint. Many people believe it was commemorative buttons issued during the presidential election of George Washington. Since then, it has grown into a multi-billion dollar industry that has helped many companies establish their brands over the years. Just think of Coca Cola and how many items there are with their branding. They soaked the market with them and look at where they are now – one of the powerhouse beverage companies in the world.
One significant aspect of promotional products in the modern-day is how many branding options we now have. For example, full-colour printing used to be a dream, but it is now possible to print a direct full-colour digital print on most plastic substrates that helps the product "pop" out more using modern technology.
So what can a promotional product do for your company? On top of the list is brand recall. Did you know that over 50% of people questioned could recall the company that gave them a promotional item in a recent survey, but only 33% could recall a radio ad and 28% for T.V. Here are some other apparent benefits (to name a few).
There is likely a positive response from the receiver.


Repeated visual representation of your company to your clients.


Brand reinforcement multiple times during a day or week.


Low entry cost and high ROI.


Long Life – unlike digital or printed ads, the product stays with a client for its lifetime.


Improves brand loyalty.


It gives you a point of difference from your competitors.
There are so many compelling reasons to use promotional products as part of your advertising budget.
Why not call us today on 1800 531 602 to discuss your needs or browse our website to view all the promotional products we have on offer.
The Promotional Products Team