Search Results
POS Displays - Banners & Signage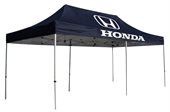 Promotional teardrop banners, custom feather flags and x-frame banners are a terrific way to promote your business or product. We also have options of 2 week and 6 week production where you'll find very cheap teardrop flags or feather banners to purchase and save big dollars. Indoor or outdoor rectangular banners printed in full colour and we also offer outdoor marquees branded with your design, along with floor and table displays. Whatever promotional display banners you need customised, you will find it in this section.
Our Popular Promotional Products in POS Displays
Promotional teardrop and feather banner POS displays are the perfect choice for promoting business and boosting your brand image. Here at Promotional Products, we offer a huge range of point of sale indoor and outdoor x-frame banners that you can use at trade shows, grand openings, conventions, concerts, sports events, and other promotional events. POS display banners are widely used as a marketing medium because they work well in almost any market. These items offer a large branding space that wherever you display them, they are guaranteed to bring attention and traffic to your business. In this age when competition is tougher, it's essential to maximise your brand presence to reach out a wider audience and get ahead.
The purpose of POS teardrop banners is to grab customers' attention and entice them to make an impulse purchase. That's why these banners are usually displayed near the entrance of store or checkout counters. We provide a variety of feather flags that will help you improve the image of your brand and increase your ROI and customer base. Our feather flag banners are lightweight and are easy to assemble. We also supply marquees for outdoor events.
We have a reliable customer service team and artists to ensure that your displays are well-designed and of high-quality. If you want more promotional products, you can also visit our fridge magnet page. Our printed fridge magnets are also a great addition to any marketing plan because they serve as a mini billboard, promoting your business in every home and office. Plus, they are affordable and guaranteed to last for many years.